Home

/

BRAVO KIWI BOOK BY CRAIG WILSON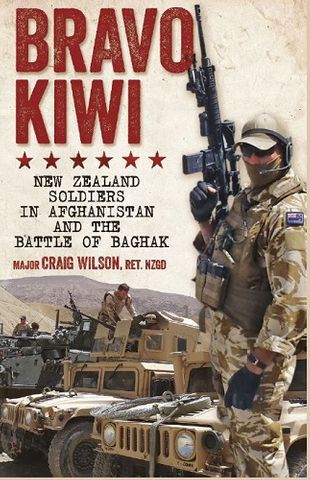 BRAVO KIWI BOOK BY CRAIG WILSON
Stock Code:
BOOK-BRAVO KIWI
Description
This is the story of the NZ Army's deadliest tour of duty since Vietnam
Major Craig Wilson, combat leader, and the men and women of Bravo and Kiwi Companies arrived at Romero Base, Bamyan Province, Afghanistan, in 2012 as the security situation worsened and culminated in the battle at Baghak - and its aftermath.
Written by former SAS, twenty-year army veteran, and recipient of the New Zealand Gallantry Decoration, Craig Wilson, Bravo Kiwi grabs you by the lapels from the first page.
At the introduction, you are dropped straight into the hot zone, with bullets whipping and cracking around you, and blood being spilt by the time you hit page two. It's pacy and raw - almost enough to suck the air out of you. But it is not sensationalistic or gratuitous; it is a cold hard jolt into the reality of what it is like to have 'baddies' shooting at you in the theatre of war. And when 'the snake bites' it's real, it's terrifying, and it is a test of character, training, and comradeship.
Delivery:
All General Goods:

These will be sent by courier - delivery 2 - 3 days nation wide
For Rural deliveries or where no post code is available please email for correct freight charge.
Non-Prohibited - Firearms, Parts, Magazines and Ammunition -
1.3C - Smokeless Powder -

Please contact re delivery possibility prior to confirming your order as depots for delivery are limited.
Freight will be charged separately to your order.
Product may be collected from our warehouse.